Hi Everyone this is Prem, I have worked as Microsoft 365 support ambassador. We see a lot of ticket for "How to Enable Organization Customization on a mac computer in Office 365". 
In this blog I am going to share a common step which we used to suggest to admins to enable it.
When we try to do some changes in Office 365 specifically in Security admin center and compliance admin center it gives the error to Enable Organization Customization.
It mostly happen when you have a new tenant and you have not used all the service of office 365.
When we get a new tenant from Microsoft, it initially stays in the tiny tenant format where all the services are not provisioned for your tenant in the backend. Tiny tenant states does not allows us to modify or change exchange related services mostly.
Steps to Enable Organization Customization on a Mac in Office 365:
Go to https://admin.microsoft.com on your mac computer and sign in with you global admin account, the page should look something like this:
Click on Help & Support widget at the bottom right of the page:
Type in the Search window "EWS" and hit enter:
A diagnostics will show up, click on Run tests: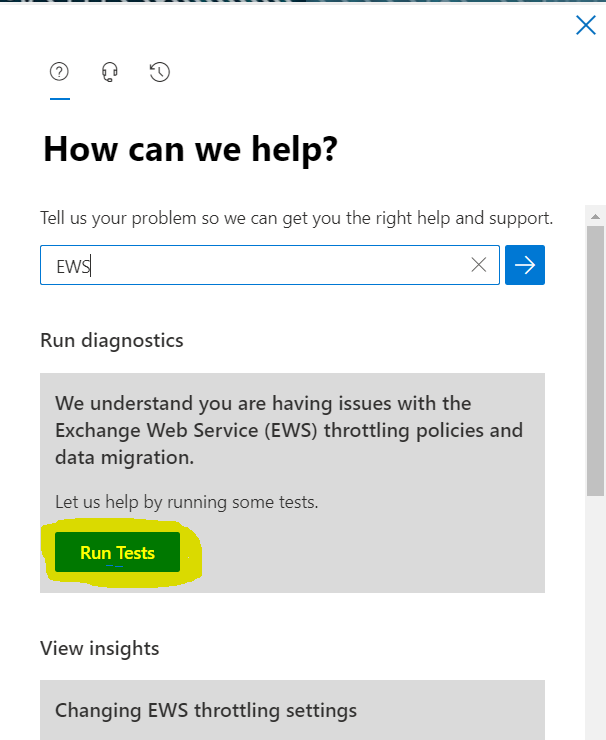 If you get the result as "The Exchange Web Services are throttled" then select the duration of days to 30, acknowledge it and click on Update Settings:
After it completes you can run the test again and check if the tenant is still throttled, If you get the message that the throttling has been removed then wait for 30 minutes for it to propagate the change in the backend.
If this does not work for you, the other way would be to do it with PowerShell, it is pretty simple you can refer this ARTICLE
This is the steps which we use for this Enable-OrganizationCustomization issue, do let us know if this helped you to fix the issue. Incase you are still not able to enable it or get any error then the best way to fix it is to connect with Microsoft by creating a ticket from the admin center, steps to create a ticket with Microsoft support
Note:
Changing EWS throttling settings
Note that even after this is run, EWS imports will still be limited to 150mb per 5 minutes per mailbox; to achieve higher migration throughput speeds, please migrate more users concurrently.
Please note that EWS throttling policy changes have no effect on the following migration types (using Microsoft tools): Hybrid, Cutover/Staged (RPC/HTTP), IMAP, G Suite, Public Folder or PST Import Service.
Date: 20/02/2023
Tag: How to Enable Organization Customization on a Mac
Author: Prem