Hi Everyone this is Prem, I have worked as Microsoft 365 support ambassador. In this blog I will share how to Fix Outlook Desktop Notification not working for emails moved by Inbox Rule.
Outlook desktop notification does not work when we create an inbox rule to move the email received and matching the condition in the rule to a separate folder in the mailbox.
These types of rules move the emails successfully to the desired folder but it does not show desktop notification when the email is received.
To get the desktop notification when a new email is received and apply the respective rule condition to it we will have to add an additional condition to the inbox rule to send desktop notification.
To achieve this open Outlook > click on File tab > Manage Rules and Alerts:
Form the list of inbox rule(s) double click the rule on which you want to enable the desktop notification on:
The rule wizard will open, click next: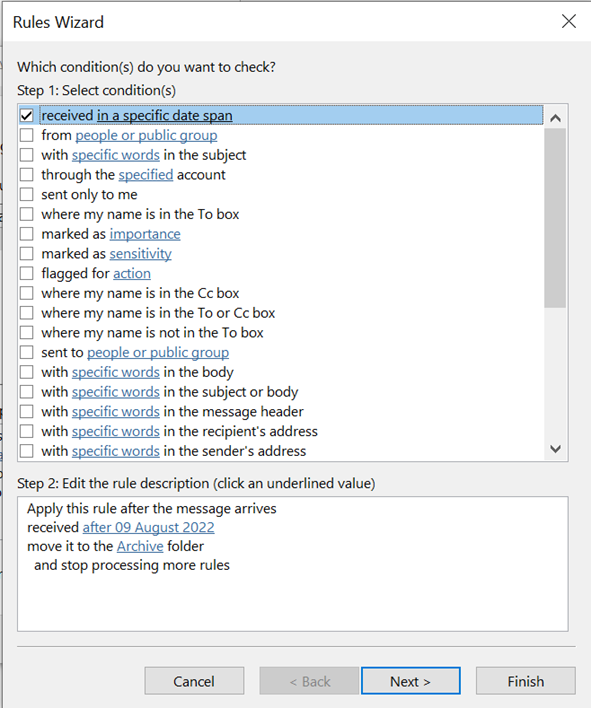 On the "What do you want to do with the message" step look for Display a Desktop Alert and select it:
Once done click Next > Next again and then click on Finish to close the wizard.
On the Rules and Alerts window Click on Apply and then OK to close the window.
Now when the new emails are hit by the inbox rule after applying the rule condition it will send a Desktop notification as well.
In this way we can turn on Desktop notification on Outlook.
Date:17/08/2022
Author: Prem
Tags: Fix Outlook Desktop Notification not working for emails moved by Inbox Rule