In this blog we will see how to set Outlook mobile out of office on Mobile device.
Out of office can be set using Outlook mobile application, it is very convenient in case you don't have access to the computer or would not like to open your computer or login on to the Outlook web access.
Outlook on the web can also be set by the administrator on behalf of the user.
Related: Complete setup of Out of Office using Outlook desktop, Admin center, Windows PowerShell and Outlook on the web.
Steps to set Outlook mobile out of office on an Android and IOS device using the Outlook app is same.
Steps to set Outlook mobile out of office on Android mobile device:
Open Outlook application on your mobile:
If you are logged in with an account in Outlook then you will see the above screen, click on your account initials in the top right.
Then click on the Gear icon (Settings) on the bottom left:
Select the account from the list of accounts (if you have multiple accounts) under Email accounts, on which you want to turn on Out of office:
Click on Automatic replies:
The current status of the Automatic replies option will be Off as we have not set automatic replies.
Toggle the switch, in order to turn On Automatic replies:
It will ask you all the information about the automatic replies you want to set: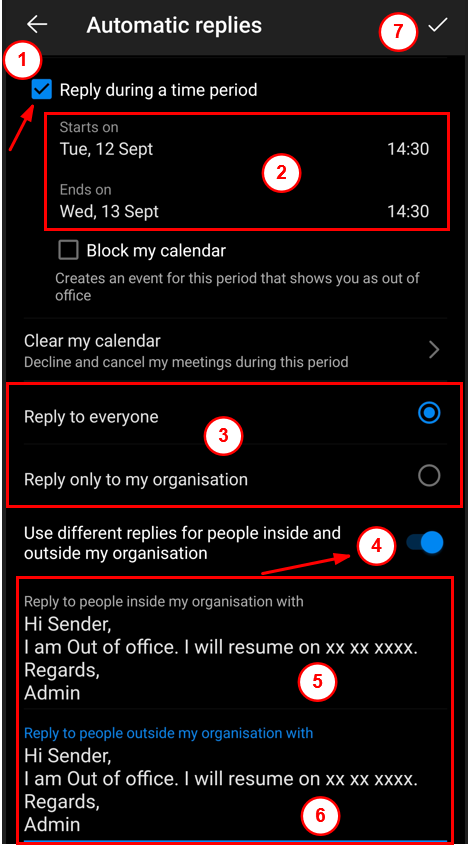 You will have to choose the feature/option as per your requirement.
For my example above, I have set the automatic replies to be sent to everyone, including people inside and outside of my organization for the duration of 24 hours, which starts on 12th Sept from14:30.
I have set separate Out of office email message, for each type respectively.
Once you have set the information, you can click on the check Icon on the top right to save it.
You will then see Automatic replies with the status On:
In this way you can set automatic replies using the mobile device, if you are looking for other ways to turn on automatic replies you can refer this article.
If you have any question, drop it in the comment section.
Date: 12/09/2023
Author: Prem
Tag: How to set Outlook mobile out of office