Hi Everyone this is Prem, I have worked as Microsoft 365 support ambassador. We see a lot of ticket for "Something went wrong Repeating Redirect Detected " issue, We have shared fixes for this issue on this post Fix Repeating Redirect Detected.
 This issue occurs when we try to access the outlook or exchange admin center on the office 365 portal. It mostly happens to a Admin account, so if you are a admin and you are facing this issue then this blog may help you fix the issue. 
As a Microsoft 365 Ambassador we have dealt with a lot of case around this issue, user also complains that they are getting Outlook error 500, now outlook error 500 has its own troubleshooting steps(YouTube video link) in this post we will talk about repeating redirect detected issue exclusively.
Fix Repeating Redirect Detected Issue:
 So if you are a admin who has recently created the admin account or done some modification on admin account and face this issue please follow the steps below:
Go to Microsoft 365 portal and login with the affected account or a different Global admin account (if you have any), to visit, Click on https://office.com
Click on manage role and uncheck all the unnecessary roles assigned to the affected account (You cannot manage role of the account you are signed in with, you will have to sign in with different global admin account, If you don't have one you can create new global admin account) :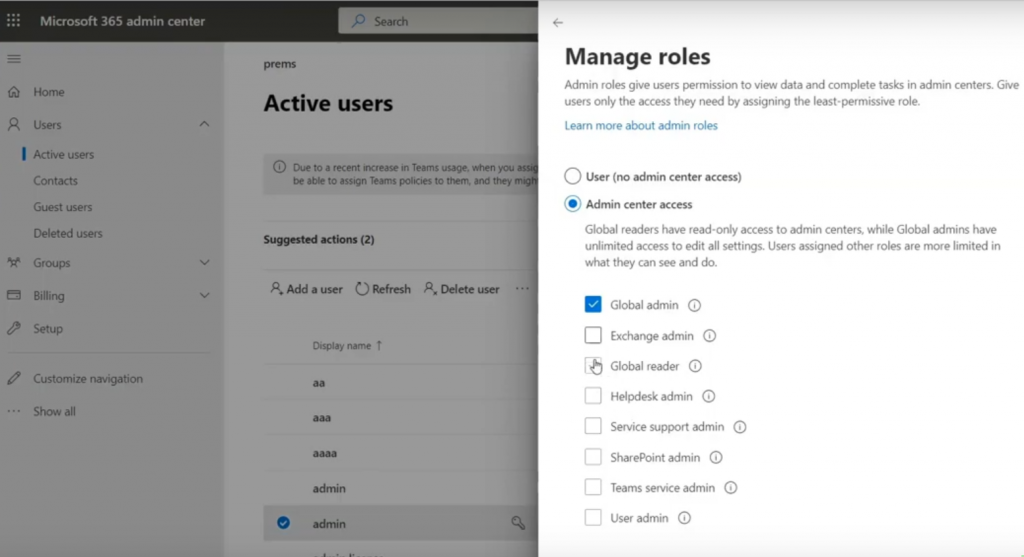 If you want to give your account access to everything on the tenant, global admin permission is enough for that you don't have to assign each of the permission listed here.
Please uncheck the permission and keep only the once necessary. Once you have removed the roles and hit save changes button try accessing Outlook again, or if you were facing issue with Exchange admin center loading , try loading that again and check the behaviour.
These were the step which we use for this issue, do let us know if that helped you to fix Something went wrong Repeating Redirect Detected
Date: 25/12/2021
Author: Prem
Tags: Something went wrong Repeating Redirect Detected Office 365 | FIX Repeating Redirect Detected