Hi Everyone this is Prem, I have worked as Microsoft 365 support ambassador. In this blog I will share how to Disable Auto Forwarding on the Office 365 Tenant so that no one can Auto forward their emails to anyone.
Steps to disable the auto forwarding on the office 365 tenant for all the users:
Go to https://security.microsoft.com/securitypoliciesandrules it will show the Policies & rules page
Click on Threat Policy:
In Threat policies click on Anti-spam:
In Anti-spam policies look for Anti-spam outbound policy (Default):
Scroll down and click on Edit protection settings:
Under Forwarding rule, Auto forwarding rules you will find the current settings on the tenant set for forwarded emails:
To block the automatic forwarding on the tenant, choose Off – Forwarding is disabled: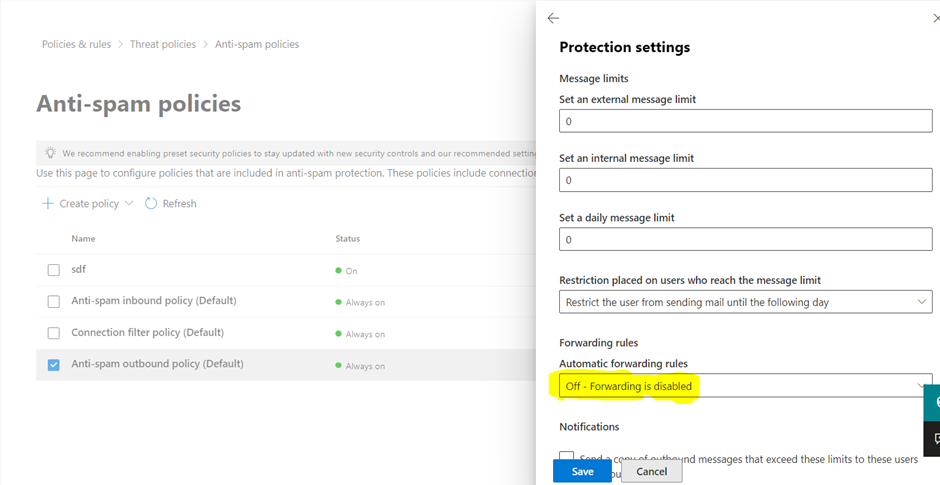 Once done click on Save to save the changes made.
You can confirm the changes by clicking on the outbound policy again and check for Automatic forwarding:
In this way we can turn of the Automatic forwarding on the tenant, the user who has forwarding enabled on the mailboxes will get NDR stating that the forwarding is disabled on the tenant level.
You can check the behaviour after 15- 20 minutes after the changes were made.
Date:3/08/2022
Author: Prem
Tags: How to Disable Auto Forwarding on the Office 365 Tenant